Age-tech Platform
Technology that improves physical fitness, mental health & purpose in life
Juno is an age-tech platform that makes it easy for seniors to find, book and enjoy new interests and fun activities. Our platform provides smart tools for your business to easily manage, and deliver an inspiring community to your seniors.
A smart platform, driven by data, Juno allows you to deliver fun & healthy ageing to your seniors.
An age-tech platform that makes it easy and intuitive to provide life-changing experiences to your customers, we give you the tools to make informed decisions and grow your business.
Marketplace
100% digital management and promotion of events, activities, and much more. Working 24/7 for you.

Bookings
Juno provides an "always-on" seamless booking process for all activities and events.

payments
Achieve peace of mind with fast, PCI-compliant secure online payment, reducing your operational overhead.

CRM
Personalised automation of customer engagement and enriched communications on any channel. 

Reports & Insights
Reliable data is critical to any business. We provide actionable insights through in-depth analytics.

Customistation
No two businesses are the same. Juno allows for flexibility to solve your business challenges.
What Juno delivers…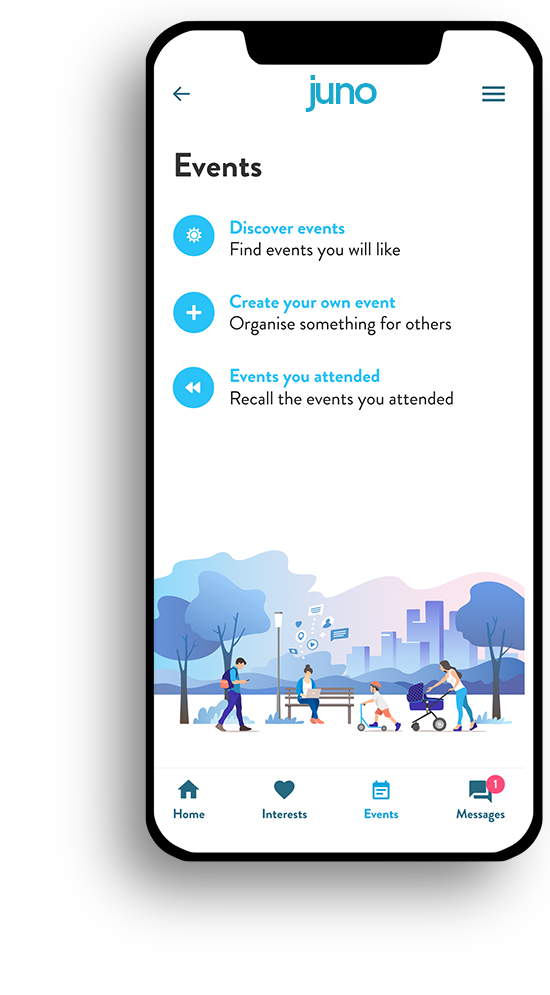 Events & Activities
Juno activates,
tackles immobility
Delivering real-time local events and activities at the touch of a button.
Juno enables our members to easily find a vast range of local activities, products and services tailored to their wants and needs.
Our members are able to create their own event and share it with the Junoverse to share their knowledge and passion with other members.
Exploring new places, pursuing your hobby or learning a new skill is often a lot more fun with others.
Connect & Chat
Juno connects,
combats isolation
Grow your social network through Juno. Meet up with new friends or simply chat safely through the app.
Build long standing relationships
We enable our members to stay connected, either at home from the computer or on the go with our mobile app.
Meeting new people can be hard sometimes, but we encourage our members to connect with others.
Personalise
Juno inspires,
fights lost purpose
There's a world of events, hobbies and sports out there to explore. We guide you and suggest based on your choices.
We believe that life should be explored, this is why we want to inspire our members to discover new passions.
Personalised activities & content
There is a lot of noise on the internet, this is why we are delivering personalised and relevant content to our members.
Life is harder alone, this is why we make it easy for our members to find new friends and make lasting connections to ensure social inclusion throughout retirement.
Easy to use
Juno simplifies
eliminating stress
Taking the stress out of searching for social and healthy activities, Juno makes it easy for seniors to find new and exciting interests. An easy to use interface and one-click booking process, Juno replaces isolation with engagement.
Premium Content
Juno educates
reducing ill-health
Juno provides advice on exercise, diet, health and well-being from our network of experts.
Expert content for healthy ageing
Many leading experts on healthy ageing and other relevant fields are active contributors to the content released by Juno.
Our platform hosts a wide variety of health sustaining programs and classes that can be attended from the comforts of home or on the go to promote active aging.
Inspirational articles & videos
Juno is all about inspiration, motivation and activation which we deliver in various, easy-to-digest formats such as expert content or tailored workout videos.
App features
Interest categories
Inspires motivation and focus, improving quality of life.
Events & activities
Improves physical wellness, mental health whilst adding routine.
Connect & Chat
Expands social network safely with like-minded people.
Intuitive app

Simple interface and navigation, removing tech stress for seniors.
Announcements

Reach your audience instantly with important important updates.
Articles &videos

Educational material to promote well-being.
Success Stories
" A really fun evening with happy people I had never met before. There were great connections and happy laughter right from the start…
Malin, Stockholm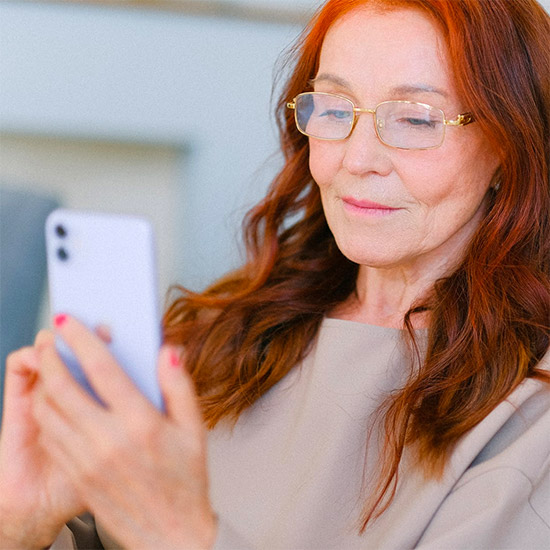 Awards & certifications
Award winning AgeTech app
EU AgeTech Award
Nominated and achieved 2019
Swiss Innovation
Nominated and achieved 2018